Drag Belt/Tow Tether S109 Resistance Trainer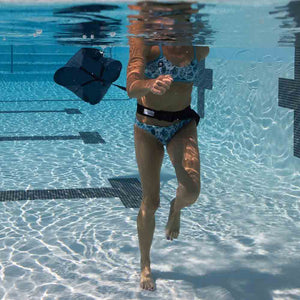 Product image 1
Product image 2
Product image 3

The S109 is designed for long swim resistance training.  The Drag Belt/Tow Tether increases endurance and strength in all swimmers. Varying chute sizes provide an endless combination of resistance levels and are  compatible with flip turns.  It is also designed for endurance swim training, resisted water walking, running and lunging. Ideal for group water fitness classes for high intensity training, for triathlete training and for rehabilitation in-water.
The unique design of the S109 comes with an adjustable 44in/1.1m waist belt, 6.5ft/1.9m nylon Tow Tether plus one chute to provide in-water resistance.  Tow Tether can accommodate multiple chutes simultaneously to achieve demanding resistance levels.  Interchangeable.  Made in the USA.

Available in four sizes:
8in/20cm chute – yellow
12in/30cm chute – blue
16in/40.6cm chute – black
30in/76.2cm chute – navy
About StrechCordz In-water Resistance Training
StrechCordz® in-water engineered resistance cords and bands are requested by international Olympians and novice swimmers for:
Competitive Swim Training
Quicker Acceleration
Increased Stamina & Speed
Improved Flexibility
StrechCordz® in-water swim training equipment is used for resisted and assisted swimming, push offs, barge pulls, proper positioning, hip rotation and more.