Long Belt Slider S11875 Resistance Band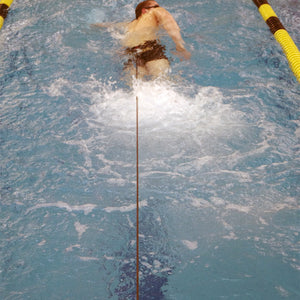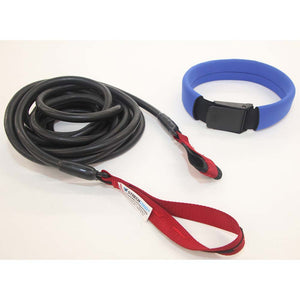 Product image 1

Product image 2

The S11875 was improved for safety and comfort.  Used for adding resistance to swimming, the Long Belt Slider is StrechCordz's #1 in-water resistance product.  It provides swim out and pull-back resistance to improve strength and stamina.  Accelerate quicker, strengthen the finishes of each stroke and improve your times.  A proprietary, embedded safety cord runs the full length of the tubing and acts as a limiter to help prevent over-stretching. 
The S11875 features:
one 2-in/5 cm waist belt that fits up to a 44-in/1.1 m waist, padded for comfort
one 20 feet/6 m of latex with safety cord tubing and sliding attachment that moves freely around the belt for unrestricted movements
can be used in either 25yd or 25m pools
Interchangeable. Made in the USA.
Choose from 4 resistance levels.
Color
Resistance (lbs)*
Resistance (kg)*
Silver
3-8
1.3-3.6
Yellow
5-14
2.2-6.3
Green
8-24
3.6-10.8
Red
12-31
5.4-14.1
* resistance when stretched 1 – 3 times original length
About StrechCordz In-water Resistance TrainingStrechCordz® in-water engineered resistance cords and bands are requested by international Olympians and novice swimmers for:
Competitive Swim Training
Quicker Acceleration
Increased Stamina & Speed
Improved Flexibility
StrechCordz® in-water swim training equipment is used for resisted and assisted swimming, push offs, barge pulls, proper positioning, hip rotation and more.