SaferSwimmer Grab Bag 20L PVC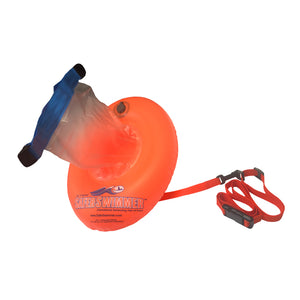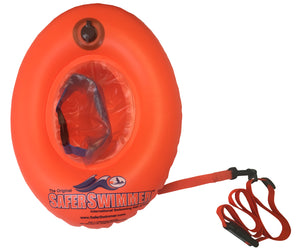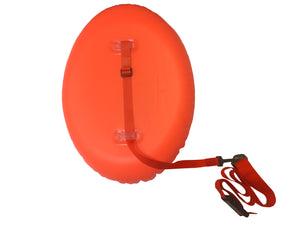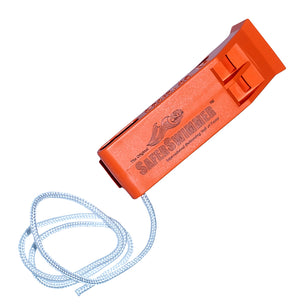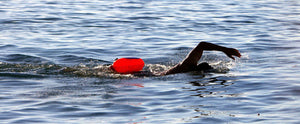 Product image 1

Product image 2

Product image 3

Product image 4

Product image 5
Product image 6
Product image 7
Grab Bag 20L TPU Dimensions: 16in x 13in, 4 in. high fully inflated
Please Note: For waist sizes over 40" please order the extension belt
The SaferSwimmer™ Grab Bag is designed to provide you with easy mid-swim access to your dry storage space. This is different from our other models where dry storage is accessed from the side; those are more intended to allow you to travel with and keep safe valuables like your wallet, keys, phone, or towel. The Grab Bag float rests on top of water and opens from the top, which is convenient for reaching things like water, a snack, a swim-training device, or your (hopefully waterproof-encased) phone or camera. As well as, of course, serving its primary functions of increasing your visibility on the water and flotation aide. Additionally, we have incorporated a new style of press-release valve that is easier to inflate and deflate for your on-the-go swim sessions.
________________________________________________
The Original Safer Swimmer™ Float

Safe Swimming Without Hindering Performance - "Be Seen and Be Safe"
Don't be fooled by the knock off buoys out on the market today. This buoy was developed by the International Swimming Hall of Fame in 2010 and is proud of making swimmers safe all over the world.
The ISHOF Safer Swimmer™ float is specifically designed to provide a safety aide for open water swimmers, serving three important functions without hindering performance or hindering your stroke. When considering personal safety and peace of mind for you and those who care about you consider the following advantages of this device:
It makes you visible to boaters, jet skis, kite boarders or other potential human hazards while you are swimming;
It can be used as a flotation device when you need it in the case of cramps, dizziness or injury and it can also be used to rescue others;
It can keep your "stuff" safe while you're swimming and allows you to take along your "stuff" on one-way swims across rivers or lakes.
Unlike running, when a swimmer suffers a stroke, heart attack or unconsciousness you sink and disappear below the water. As an incident at Christmas Lake in Minnesota demonstrated, when observers saw the ISHOF Safer Swimmer Float not moving, it alerted them in time to revive and save the life of a swimmer who otherwise could have been added to the not insignificant number of open water swimmers who have drowned in recent years. Most notably, the great American open water swimmer Fran Crippen.
All proceeds from the sale of this product benefit the International Swimming Hall of Fame.