Diaper Dolphins Volume II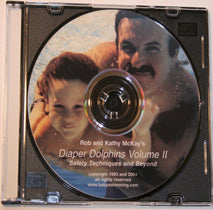 This sequel to Volume I introduces advanced skills such as jumping in, turning around and swimming back to the side of the pool. Parents are also shown techniques to increase their young swimmer's endurance, gradually and safely, increasing both lung capacity and distance swum. The final segment of the video is dedicated to helping families implement a systematic home pool and water safety plan.

A printed 4 page teaching supplement leaflet and home pool safety poster entitled the Diaper Dolphin Safety Circle are included.