Don Gambril: A Coach With a Heart By: Burt Kanner-eBook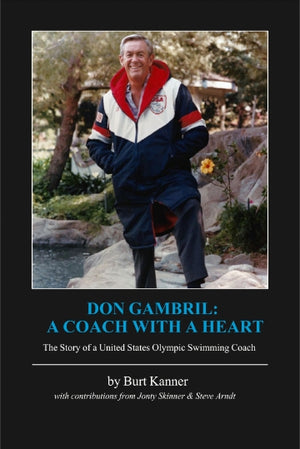 (Note: This is an e-book.  You will not be sent a printed copy. This is a downloadable product.  To download: see instructions on your order confirmation once you have purchased.)
In the bestselling book "The 7 Habits of Highly Effective People" written by Stephen R. Covey, the second concept that Covey encouraged is to "Begin with the End in Mind." So, with that goal set, this book seeks to honor and document the life of one of the world's greatest swimming coaches, Don Gambril.
The title, "Don Gambril: A Coach with a Heart," was chosen with a duality in mind. In 1981 coach Gambril underwent quintuple bypass surgery to save his life, while Gambril's metaphorical heart consistently shows through in the way he connects with his swimmers. There is something very special in this coach's being that cultivates swimmer's talents to their potential. To understand Don Gambril, it is helpful to know of his formative years and his family. This is examined in two of the genesis chapters. His years in the U.S. Navy helped set his own course.
Don's coaching arc was continually rising, as will be detailed in this biography. After success in building the swimming teams at Rosemead, Arcadia, City of Commerce, Pasadena City College; he went to Long Beach State College, elevating its program to national prominence. From Long Beach, it was off to the prestigious Harvard University. The trajectory reached its paramount at the University of Alabama.
Through his career he would develop many world record holders. Gambril would hold the responsibility of coaching 19 national teams. Included would be five United States Olympic teams going to Mexico City, Munich, Montreal, and China (replacing the boycotted Moscow Games in '80). The ultimate experience would be as the teams Head Coach at the 1984 Los Angeles Olympic Games.
Along this journey, Don would train and develop an endless source of coaches who went on to develop their own careers. This will be explored in a chapter entitled "Gambril's Mafia."
The end in mind is to add a historical biography to the annuals of swimming, hoping to give insight into a coach who was treasured by his many swimmers. By delving into the story of a man who raised a wonderful family after a less than ideal youth, we'll understand better the motivation that empowered him.
By knowing Don Gambril more fully, future coaches will better be able to "stand on the shoulders of giants." Because of his involvement, Don made the world of swimming and individuals in it better. Hopefully, the book will motivate future swimmers and coaches alike.